I haven't posted in a few days. Life seems to just get away from me. Thursday night we took the kiddos to the Royals game. It happened to be "Ladies Night" SO Jaidyn and I got free pink Royals hats. She was so excited.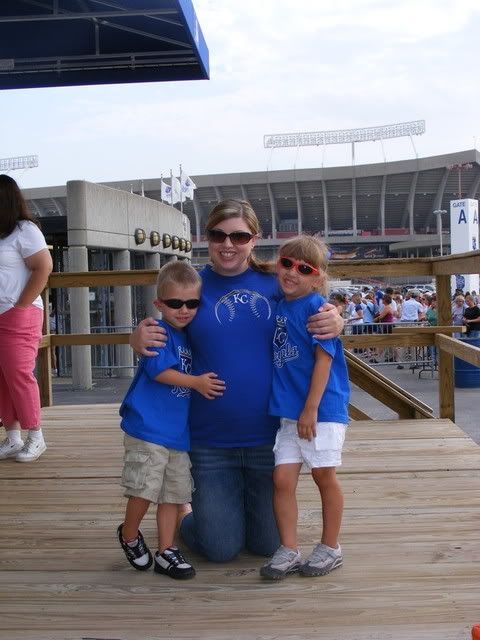 I was really suprised how hot and humid it was. We left early when it started to rain. My feet were so swollen i have bruises from my flip flops!!! Jason went back to work last night and I once again ordered dinner from Mr. Goodcents. I love the fact that they deliver!! Today my sister and I worked on baby shower stuff. I know I'm not supposed to do anything for my own shower but I have so many ideas for it. We got the invitations made. SO CUTE! The kids are still doing good with no diapers at night. It helps that Josh just doesnt sleep at night. I don't know how that little one has so much energy! He basically goes full speed until BAM he crashes!
I wish I could crash like he does. I really think as soon as I fall asleep I either have to pee, one of the kids is poking my face because they want something, or the dog jumps on me. And now that Jason has been on nights I freak out over every little noise. The ice maker gets me everytime!! I do love sleeping in the middle of the bed though =) I think he goes back on days soon but to be perfectly honest. I don't really listen when he talks about his schedule. Its pointless most of the time. His schedule doesn't stay the same. I think thats all i have to ramble on about tonight. I need to switch some laundry and hopefully get to bed!